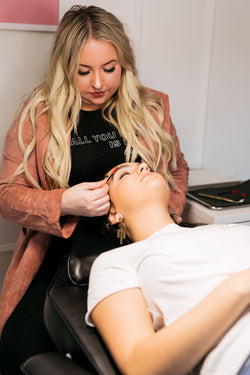 beautymavenscollective
Lash Lift Training
During the Elleebana eyelash lifting classes in Layton, Utah at Beauty Mavens Collective, you will learn everything you need to know about lash lifting!
NEW PRICING AS OF JANUARY 1, 2020
UPCOMING Hands On Lash Lift Trainings in Northern Utah:
November 15
December 16
January 20
Our One Day Course, from 10:00 am to 5 pm, is in Davis County at Beauty Mavens Collective. During the lash lift training, we will go over everything you need to know to achieve the best lash lifts around.
The class includes:
Technique Demonstration

Tips + Tricks

Social Media & Marketing Tips

Brand & Product Knowledge

Professional Elleebana Kit 

Lash Lift Training Manual

Practice Hands-on 2 Live Models

Lash Lift Certification of Completion

Listed on Website as a Certified Stylist

Ongoing Support
Please Note: In Utah, you must be a licensed professional in either aesthetics or cosmetology or be currently enrolled in school with a state board date in place.
ITINERARY
Our classroom size is kept to a maximum of 6 students, this is to ensure all students receive dedicated attention. 
Lash lift class begins at 10 am and ends anywhere from 4 to 5 pm, depending on the questions and the level of expertise.
We begin our lash lift training by going over our manual and giving a detailed PowerPoint presentation.
After this, at 11:00 am, a live model will arrive. A lash lift & tint demo, done by your educator, will take place for all to see + take notes. Please note, we do not allow any video recordings during our training's.
We will have a lunch break at 12:00, there are plenty of delicious, local restaurants right by the studio.
1 pm is when your first model should arrive. Following the model we will have a small discussion & prepare for your next model who should arrive at 2:00 pm.
Please bring models with long dark lashes who have never had a lash lift before with no eye makeup on. The model's fee is $40 for lash lift only ($35 off). Your lash lift trainer may also help supply a model for you for a $25 fee.
Once your models are completed & all questions have been answered, class is dismissed. 
It will be up to you, as the eyelash lift artist, to submit 3 photos of your work or case studies. Two of these case studies can be of the models you worked on in any of our eyelash lifting classes. Once all your case studies have been sent and approved by your trainer, all your information will be sent to HQ for processing. Lash lift certificates may take anywhere from 4-6 weeks to arrive. Please make sure the information you initially input for your certificate is correct.
WHAT COMES IN MY KIT?
EYELASH LIFTING KIT
- 15 Lifting & 15 Setting Lotions
- Silicone Rods Combination Pack ( S, M, L, & XL )
- Elleebana Eye Pads
- Elleebana Lash Lifting Adhesive
- Original Lash Lifter Tool
- New Isolation Tool
- Elleebana Makeup Remover
- Application Brush
- Micro applicators
- Elleeplex Aftercare Treatment
- Step-by-step Card
*More products will be available for purchase once class is done.